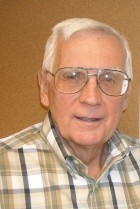 Kenneth K. Damgaard (1939-2012) was a licensed civil engineer and professional land surveyor with 35 years of experience in public service: 24 years with the Arizona Department of Transportation, 3 years with Pima County Department of Transportation, and 8 years with the City of Tucson. He was a member of the Asphalt Recycling and Reclaiming Association and served a decade as their Affiliate Chairman. Ken was an avid supporter of asphalt recycling and an inspiration to many generations of engineers and construction professionals. He graduated from the University of Arizona with a B.S. in Civil Engineering in 1964 and received an MBA from Northern Arizona University in 1982.
To honor Mr. Damgaard's legacy, the Kenneth K.
Damgaard Scholarship is awarded to undergraduate and graduate students in the
College of Engineering that show promise to become true stewards of the natural
and the built environment through their current scholarly activities and
achievements.
Eligible achievements include passing the LEED Green Associate or AP exam(s), Greenroads Sustainable Transportation Professional (STP), ASCE Envision Sustainability Professional (SP), or similar. The scholarship will pay up to $1,000 for the cost of the relevant exam(s) in recognition of the student's commitment to include sustainable design principles and practices in their engineering education and professional career. Other activities and achievements may also be found eligible upon review by the scholarship committee.
The scholarship is only available to currently enrolled engineering students at Cal Poly Pomona. To apply, please include official proof of passing a relevant exam, copy of receipt showing payment of the exam fee, Bronco ID number, and mailing address. Submit the documentation in a sealed envelope to:
CAL POLY POMONA Civil Engineering Department
Kenneth K. Damgaard Scholarship Committee
Building 17, Room 2651
For questions or additional information please contact Dr. Rosa Vasconez, P.E., LEED A.P., rvasconez@cpp.edu. Make sure to use "scholarship" in the subject field.
Scholarship Recipients
2021:
Melineh Aghakhabian ENV SP
John Alfonso Aguilar ENV SP
Douglas Annand ENV SP
Borna Asgari ENV SP
Joshua Bloomer Greenroads STP
Kyle Bushhousen ENV SP
Brian Cervantes ENV SP
Randy De Leon Elias ENV SP
Flora Delgado ENV SP
Daniel Djemal LEED GA
Talar Galoustian ENV SP
Yasmeen Halabi ENV SP
Misael Iniguez ENV SP
Kara Johnson ENV SP
David Kim ENV SP
Evan Landi LEED GA
Shayna Larson ENV SP
Austin Lim ENV SP
Jesus Miranda ENV SP
Antoan Mishriki ENV SP
Maria Nelsen ENV SP
Mayra Peredo Villavicencio LEED GA
Ryan Porras ENV SP
Yamile Portillo ENV SP
Patricia Santana ENV SP
Araeik Sarian ENV SP
Jonathan Scott ENV SP
Marisol Serrano ENV SP
Salvador Vargas ENV SP
Daoud Wali ENV SP
Jacqueline Yanez ENV SP
2020:
William Daher, Envision SP
Robert Fix, Envision SP
Justin Tata, Envision SP
Emily Randig, Envision SP
Dion Mokhtari, Envision SP
Jonathan T. Bui, Envision SP
Matthew Palacios, Envision SP
Elizabeth Aguilar, Envision SP
Jacob Barakzoy, Envision SP
Kirolos Botros, Envision SP
Amber Campbell, Envision SP
Yesenia Campos, Envision SP
Kevin Erving, Envision SP
Victor Heiny, LEED GA
Lindsey Henken, Envision SP
Laura Lopez, Envision SP
Nick Muntean, Envision SP
Abin Thomas, Greenroads STP
Julia Chang, Envision SP
Michael Calixto, Envision SP
Tyler Vigneault, Envision SP
Robert Kochan, Envision SP
Lorena Bennett, Envision SP
Alexandre Quazza, Envision SP
Tahsin Ashraf, Envision SP
2019:
Christian Ascensio, Envision SP
Miguel Avila Monjaras, Envision SP
Karina Carillo Santiago, LEED GA
Marilyn Galeano, Envision SP
Lucas Gomes Pereira, Envision SP
Jacob Gregg, Envision SP
Allison Guerrero, Envision SP
Juan Hernandez Valdovinos, Envision SP
Roberto Huizar, Envision SP
Jasmin Hurtado, Envision SP
Magdeline Hutton, Envision SP
Cam Giang Huynh, Envision SP
Sameh Jouhar, LEED GA
Jerome Marquez, Envision SP
Sergio Morales, Envision SP
Drake Moye, Envision SP
Clayton Ojeda, LEED AP
Christian Ramos, LEED GA
Mariam Rizk, Envision SP
Giovanny Rodriguez Quevedo, Envision SP
Cynthia Ruiz, LEED GA
Johnny Santiago Luna, Envision SP
JonPaul Sarro, Envision SP
Amy Truong, Envision SP
Breggie Andreane Tuazon, Envision SP
Natalie Vargas, Envision SP
Brayan Velasquez, Envision SP
Ryan Wilson, Envision SP
Kevin Yang, Envision SP
2014 – 2018:
Adam Vidalis, Envision SP
Jonathan Sepulveda, Envision SP
Kevin Nguyen, Envision SP / Greenroads STP
Anthony Munoz, Envision SP
Armando Lozano, Envision SP
Elisa Lim, Envision SP
Andrew Koscal, Envision SP
Roy Kim, Envision SP
Weijian Huang, Envision SP
Roy Feng, Envision SP
Christopher Borunda, Envision SP
Methuselah Arnold, Envision SP
Ryan Alvarez, Envision SP
Jonathan Lee, Greenroads STP / Envision SP
Christian Esteban, Greenroads STP
Dang Nguyen, Greenroads STP / Envision SP
Andre Ortiz, Greenroads STP
Alexander Tran, Greenroads STP
Abdal Rahman Al Araj, Envision SP
Felix Awujo, Envision SP
Tyler Carlson, Greenroads STP
Vincent Chen, Envision SP
Patrick Cheng, Envision SP
Andrew Crutchfield, Envision SP
Matthew Cureg, Envision SP
Robert DeMerrit, Envision SP
Sarah Donnally, Envision SP
Elibera Ebrahimi, Envision SP / LEED Green Associate
Yatziri Enriques, LEED Green Associate
Christian Estevan-Saldivar, Greenroads SP
Edgar Giron Orozco, Envision SP
Isabel Gomez, Envision SP
Giovanni Gonzales, Envision SP
Minwoo Jeong, Envision SP
Mark Lemus, Envision SP
Elisa Lim, Envision SP
Yongsuk Lim, Envision SP
Rosendo Medina, Envision SP
Edwin Rivera, Envision SP
Salvador Rodriguez, Envision SP
Walter Rodriguez, Envision SP
Luis Salgado Nunez, Envision SP
Nicholas Woo, Envision SP
Peyton Young, Envision SP
Vache Richard Garabedian, LEED AP
Rami Kakish, LEED Green Associate
Cesar Guevara, LEED Green Associate
Carolina Fernandez, LEED Green Associate
Carlos Moreno, LEED Green Associate
Mehdi Alifard, LEED Green Associate
Young Kim, Envision SP